BELLEVUE SUNRISE ROTARY CLUB ANNOUNCES
SELECTION OF THE FIRST ROTARY SCHOLAR
RS1: Britta Bunnel – Class of 2025 Cohort – Tri Cities Learning Community
Britta grew up in Sammamish, Washington and graduated from Skyline High School in 2016. She attended Azusa Pacific University in Azusa, California and graduated in 2020 with a B.S. in Biology and Humanities. Britta is currently enrolled at Washington State University in the Elson S. Floyd College of Medicine. Britta's Rotary Scholarship will be awarded to her annually in the amount of $1,000 per year.
Britta submitted the following essay in June 2021 to support her application for the Rotary Foundation Scholarship Award
"As a child, I frequently dreamed of becoming a doctor – knowing how to use fancy hospital equipment and perform complicated medical procedures. But above anything else, this dream came from my desire to help those around me feel better, and to know what to do when someone needed care. From a young age, my heart was rooted in caring for and serving others.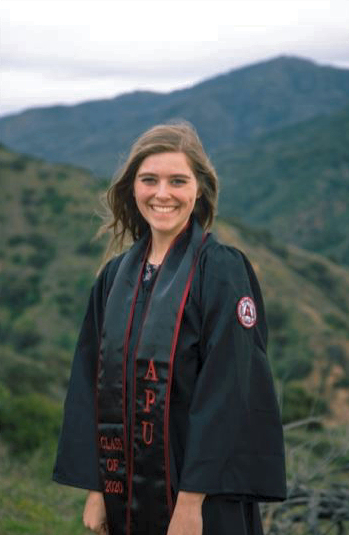 As I started my undergraduate degree, my passion for medicine started to mature and become more defined. One of the factors along this journey was joining a pre-med academic fraternity that focused on service, equity, and philanthropy. Phi Delta Epsilon's mission is "deeds not words," placing a high value on actively serving others. My time serving with Phi Delta Epsilon and fundraising for Children's Hospital of Los Angeles furthered my understanding of the importance of actively doing whatever possible to care for people.
Opportunities to shadow physicians have also molded my view of intentional patient care. While watching the delivery of a lung cancer diagnosis, I was struck by the thoughtful listening and empathy demonstrated by the surgeon. In the midst of his busy schedule – full of clinical hours and procedures in the operating room – the physician took extra time to sit with his patient because he deeply cared about the man's story and wellbeing. I want to be a physician who serves her patients in the same way, because practicing medicine will never be about me; it will be about my patients.
This patient-over-practice vision continued to develop while serving at a low-income neighborhood clinic in Quito, Ecuador. The clinic had patients of all different backgrounds and socioeconomic statuses, and my supervisor used this to teach me about their philosophy of care. One day, she took a set of blood samples and turned them so I could not see the names on the vials. She told me that this was how they practiced: by serving each person with equal value and dignity. I aspire to put my patients first and holistically serve their needs in the same way I experienced in this clinic.
When I traveled to Mexicali, Mexico to serve on public health teams, we partnered with local physicians to set up free mobile clinics, open to anyone in need. While talking with patients and helping them through triage, the need for people to have someone to listen to and care for them was overwhelmingly evident. In these settings, I was learning how to always put each patient's needs first and understand that service may look different for each person – sometimes it might mean a prescription refill, and other times, it might be intentionally asking about someone's family and their stories.
I am pursuing medicine because I want a career that focuses on helping others by using tangible skills that can make a substantial difference in the lives of people I encounter. It will be a privilege to practice medicine, serving people of all demographics through primary care."
The members of Bellevue Sunrise Rotary Club are very proud to sponsor the Rotary Scholarship program, which supports Britta Bunnel in her pursuit of becoming a physician. We know that Britta will thrive in the medical profession, and has the character needed to perform well as a primary care doctor in an underserved community of Washington State. Her thank-you letter upon receipt of her award is very reflective of her commitment to service in a future community, as well as humanity at large.
The long-term goal for the Rotary Scholarship fund is to add a new scholar each following year. Our great hope is to raise enough money to create an endowment that ultimately will become self-perpetuating for funding the scholarship.